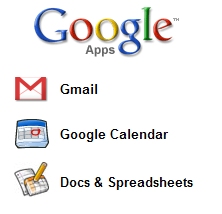 My Web host, Dreamhost, has a new service where you can host your e-mail on Google. Since I have several sites, I thought funneling all my e-mail accounts into one service would be much easier than to log onto 4 e-mail accounts every day.
Dreamhost makes everything simple with one click installs, so when I clicked onto Google Apps and signed up, I thought everything was fine.
A couple hours later, I logged onto my site and Google had totally taken over my home page. There was Google Calendar, news, etc. My site was gone. WTF??
I logged onto Google Apps and tried to figure out what went wrong, attempting to get my site back. I couldn't figure out what had happened. So, the only thing I could think of was to delete my Google Apps account.
I waited a little while for the changes to take effect till I logged onto my site again. Now all I got was a blank screen.
I contacted Dreamhost and they told me it looked like I accidentally told Google to host my site. AHHH!! I quickly went and had Dreamhost re-host my site again. When I logged onto my site once, I still had nothing.
I was getting scared now. I had just worked on the site most of the day and got it to how I wanted it to look. It was finished and now I was afraid I would have to start all over – redoing my theme and trying to add a months worth of posts.
I logged into my sites folder via FTP and there was nothing there. It was totally empty and I suddenly came to the realization that I hadn't backedup the site. I was screwed.
Luckily, I saw that an older version of the site was stored when I updated to WordPress 2.5. I copied everything over and opened up the site one more time, crossing my fingers.
There it was. I had all my posts and the only thing missing was an ad I had recently put up.
It was a great lesson for me to begin backing up my sites regularly… but still:
Google Apps hates me.