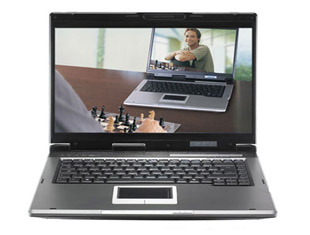 For the past couple of weeks, the screen on my laptop has become increasingly looser and looser (kinda like one of my ex-girlfriends, but I digress) and I've been too lazy too find out how to fix it.
Well, today, I put it down and the screen fell flat backwards. So I had no choice but to finally fix it.
It's pretty easy and if I knew how easy it was, I wouldn't have waited.
I'm working on a Dell Latitude D820 but this should be pretty universal.
If you look at the screen casing, you'll see some rubber stoppers (I don't know what they are called) but I have 6 all around the outer edge. Peel those off (you won't hurt them) and you'll see a screw. Most likely they will be loose. Take a phillips head and tighten them down.
I also have 2 flat black sticky things (again, no idea what they are called). Take your fingernail or a really small knife and peel those off. You'll see another set of screws that need to be tightened.
Put the stoppers and sticky things (I'm very technical on this site!) back and your screen should be as good as new.